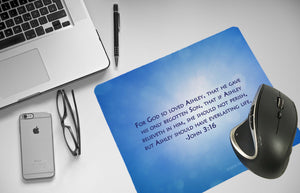 Your name inserted directly into the scripture!
This is the mouse pad FOR YOU! You will find your name inserted in John 3:16, just for you, and it will bring the scripture to life as never before.
A personalized example of John 3:16:
For God so loved Ashley, that he gave his only begotten Son, that if Ashley believeth in him, she should not perish, but Ashley should have everlasting life.
Join many other people in enjoying this amazing Personalized Mouse Pad today!
After you complete the form you will be mailed your own personalized edition of My Personalized Mouse Pad.
Your edition of the My Personalized Mouse Pad will be personalized with the recipient's First Name and gender pronoun.
$19.95 (FREE shipping). Orders normally ship within 1-3 business days.
Love it
The fact that the Bible has my name in it invites me to read it. I purchased the two copies for my granddaughters hoping they will get the same sense of invitation. The print is easy to read and I love that it is in a three ring binder which makes it easier to handle.
Reading the bible feels so deeply personal...
I've never been a person to pick up the bible and not be able to put it down. This bible makes reading so deeply personal that you get lost in the connection you feel to the scriptures. Going through challenges in my life right now, I carry this bible with me and randomly just open it to a page and it just ministers directly to my soul. I wish it had the ability to have a dedication message page included. The photos online could better represent the size of the large print version. The cost is expensive. Overall I love the bible and it was a great purchase.
A Blessing
This was a gift for my goddaughter. She said when she opened it she was amazed with tears she felt so blessed. I was so surprised to get it so fast. Thank you so much I am getting ready to order another one. God Bless
Amazing!!!!
I ordered 3 journals! I am going to order myself one and each of my close friends!!!!